Healthy Recipe Video Contest
Organic Planters, the best Organic Food Store in Kochi, brings to you " Healthy Recipe Video Contest". A contest for all cooking experts out there. All you have to do is to buy at least one organic food product from our website www.organicplanters.in. Using that food product as an ingredient, shoot a video of your best healthy traditional recipe. Share the video with us. The videos will be published on our YouTube Channel and the video with maximum likes and shares will win exciting prizes. All the Terms and Conditions of this contest are mentioned below.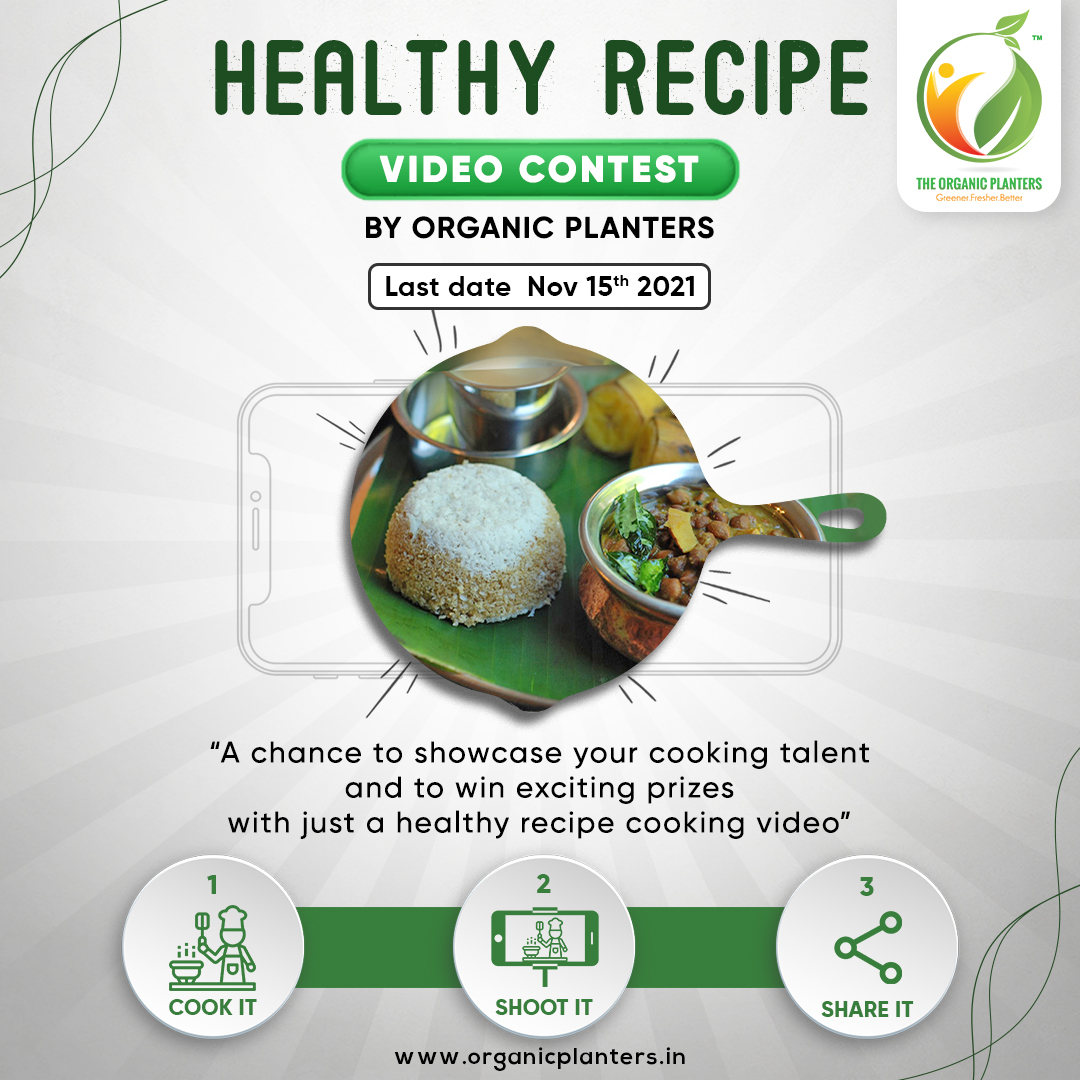 Hurry up...Choose your favorite product, roll the camera and start cooking!
NB: If you are purchasing a product for the first time from our website, you will get a 10% offer. Also if you want to purchase a product to participate in this contest, you will get another 10% offer that you have to use our CONTEST10 coupon code. So you will be benefited by a total of 20% discount offer from Organic Planters.
How to Participate?
Purchase at least one organic food product from www.organicplanters.in
Shoot a short video of a healthy recipe of maximum 5 minutes.
You must use the purchased product in the recipe and it must also be shown in the video.
Share the video through file transfer options like Google Drive. When you send videos, please mark the subject line as " Healthy Video Recipe Contest"
All the shared videos will be published in Organic Planters Youtube Channel
After publishing, the video URLs will be sent to the respective contestants that you may share on social media platforms to garner support.
The video with more views, likes and shares will win exciting prizes.
Special mention for most creative video.
Contest Period: September 15th, 2021 to November 15th, 2021
Video Specs
The maximum duration of the video shall be 5 minutes. The file size of the entry shall not exceed 500 MB.
Points to Remember
No entry fee to participate in this contest.
No age limit to participate in this contest.
The language of communication in the video is left to your personal choice.
Terms and Conditions
All contestants must subscribe to our YouTube Channel.
The videos sent must be unique, i.e. it must not have been published in any other YouTube channels or social media platforms
Entries that violate the T&C of the Contest will be rejected.
The Core Committee has the full authority to decide whether your video has to be uploaded or not, and the committee's decision shall be the final and conclusive.

Submit your best cooking videos to plantersorganic@gmail.com
For all your queries and doubts regarding the contest,
* Contact us between 9am to 6pm (IST) on all working days.
* Call/ WhatsApp : +91 6235 813 380
* All communication regarding the contest should be in Malayalam or English.