Treasures From The Wild
The forests of the Western Ghats are blessed immensely with a range of wild products which are rare and precious in their own ways.
The tribal communities that dwell here collect these Non-Timber Forest Products (NTFPs) like the leaves, roots and bark of trees for making oils, medicines and other products. Honey, beeswax, tree resin and fruits such as Jackfruit, Nelli, Shatavari, etc. are also gathered from nature without disturbing its balance. Cosmetics and lifestyle products are handmade from these wild harvests by small groups of women residing near Karuvannur puzha
We are providing a helping hand to such small scale manufacturers to tide over market fluctuations and uncertainties. By picking a product from our Wild Treasures collection, you are supporting a local enterprise in a forest village and indirectly contributing to forest conservation by encouraging naturally produced products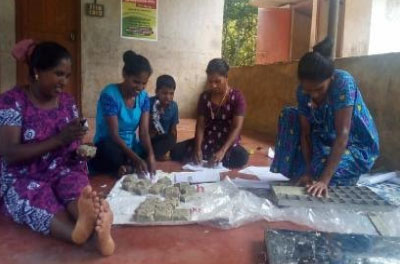 The Magic Of Beeswax
In the forests of Anapantham and Vazhachal, not far from Thrissur, wild forest honey and its by-products are an important source of living for the tribes. They harvest honey from hives on steep rock faces and giant trees, and beeswax is a byproduct. Beeswax is in high demand in the pharmaceutical and cosmetic industry due to its supreme combination of anti-allergen and anti-fungal properties for skin. It is also rich in Vitamin A and is a natural moisturizer for the skin. A range of skin products are manufactured from this like soaps, lip balms, moisturisers, insect repellant and pain relief balms.
Wild Food
Our range of seasonal forest goodies can help you toss up some forgotten tastes and unique recipes. Cycas powder processed from a rare wild wood is a sinful base for cakes, porridge and puttu.
They also make Shatavari (Wild Asparagus) in Honey, and rare combinations of pickles like Sour Lime and Green Pepper in brine, Wild Grape in brine and Bilimbi, Shallots and Birds Eye Chilli in brine. There are light snack products like Nutmeg candy and jackfruit Papad too.
The Organic Planters Unveil The Hidden Treasures From The Wild.
There is nothing more natural and organic than tribe gathered products from the dense forests of the Western Ghats. We bring you wild forest honey and beeswax products, 100% natural cosmetic and lifestyle products that are handmade, tree resin, essential oils, freshly plucked local fruits and vegetables, unique tribal savouries and much more in our treasures from the wild.
Join us to uplift local markets and make the world more sustainable